Our Products
InSightful Visions carries a huge selection for your eye care needs
Frame Brands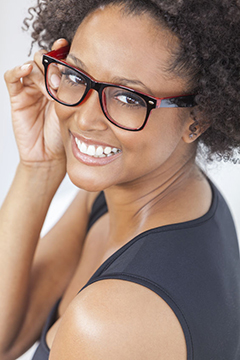 When you visit InSightful Visions you will find that we feature our entire collection with mens and womens models together to reflect the different types of fit and style each collection offers. All of our licensed brands, unique to the Sunshine Coast, are purposely limited in the edition of each frame model selected and displayed to assure you a very individual and unique look. Feel free to peruse some of our Frame Vendors click here.
Choosing a frame that's right for you:
Don't dread the thought of having to wear eye glasses. If you choose your glasses frames properly, they can enhance your facial features.
At InSightful Visions, we will work with you in choosing the best frame for you. Our goal is to ensure that you will love how you look. We take a thorough assessment of the shape of your face, skin tones, price and prescription needs to reveal the best frame style options to make you look good while helping you see better.
Narrowing Down Your Choices in Eyeglass Frames
Before you visit our Optical store, consider what you want to communicate to our Optician:
What style of frame you prefer: delicate or bold, retro or modern, rim-less or Semi rim-less?
What are your hair and skin colors, and what are the main colors in your wardrobe? What colors are you are drawn to?
Are you going to wear this frame all the time, mainly at work or just when you go out on the town?
What are your current fashion trends?
Do you want designer labels?
What do you like or not like about your current eyeglasses?
Even if a frame looks great, you aren't going to wear it if it's uncomfortable. And if your new eyeglasses are sitting in a drawer somewhere, you certainly aren't getting your money's worth. This is where a professional Optician can be very helpful!
We invite you to find yourself in the following Preview of our Collections…
Budget
Children & Youth
Frame styles that allow style and fit at a conservative price range.
Available for infants and young children, these versatile styles that range from classic to funky and are durable with unlimited warranties that stand behind everyday wear.
Classics
Contemporary Couture
Reminiscent of your frames of past with enough room for your entire lens capacity, yet still wanting the fine detail, new colours and the contemporary styling of 2016.

Aristar… CAT… Marilyn Munroe… Tura

Very stylish and forward facing, you may catch a glimpse of where you want to be, the end result must suit, enhancing the best of your personality, which is YOU.

Brendel… Einstein… Mizyake… Mizyake Couture… Soho Tech

Designer Series
European Design
Individuality, colour galore, comfort and fit, as unique as you are!

Reflections by Traff… Izzumi… William Morris London

The perfect fit for your high bridge, wide or narrow set eyes or a high prescription. The science and design of these frames will make your optics all they can be, not to mention: comfort, style and affordability.

OGI… Prodesign:Denmark… Ted Lapidus…Xenith

Luxury
Minimal Art
Timeless pieces embellished with yesterdays classics and tomorrows forevers. Quality that will last you a lifetime, build your own personal collection of eyewear with individual style, elegance and comfort.

Emillio Pucci… Roberto Cavalli… Tom Ford

The ability to custom shape and fit any lens shape with the bridge and temple fittings ranging from fine titanium, horn textures to wide temples that give each individual a weightless truly unique fit and look.

Free Form Design Titanium

Occupational & Sports Eyewear
Small Fit
Safety frames needed for work, sports glasses, shields… we have it all!

On Guard Safety… Safety T Sports

Excellent for youth and petite adults who are looking for that proportional fit, with style!

Nat & Coco… Reactive… Soho… Lulu Guinness… Vera Wang

Technical Innovations
Titanium
Designed for everyday life, low in maintenance and oh so easy to wear, and forged in the newest materials available, unmistakable leaders of today's technology.

Aspire… Dilem… Titan Flex… Float

Quality and lightweight with distinctive style and intricate colour inlays, each model unique unto its own, available in semi and full rim models.

Kio Yamato… O&X New York… TLG too light glasses

Vintage Look
Lens Brands
Perfect for those seeking the authentic designer retro look, available from small to large fits.

Anglo American… Goldfinch

We source out the best in technical design, materials, coatings, price and warranties. Your lens selection is as unique to you as your frame, our experts consult with you to understand your needs and ensure you are aware of all your options, together we determine the best visual lens for you.

Centennial Optical Limited… Essilor Canada… Hoya Vision Care… Nikon Canada
Feel free to check out some of our Frame Vendors.
Natural Remedies
InSightful Visions also offers a variety of products for a more holistic approach to eyecare. We also offer DNA cheek swab testing for AMD (Age-related Macular Degeneration) vitamin supplementation.
MacuHealth – a natural supplement to rebuild and help maximize retinal pigment to help you see more clearly
Ophthalmics – natural homeopathic eye drops for allergy and dry eye relief
Re-Balance – developed and launched by us, it is an organic eyelid and facial skin care line which addresses the skin microbiome, a bacteria that impacts our natural tear production
InSightful Visions serves Sechelt and all of the Sunshine Coast, BC.
For more information on our Optometry Services, Eye Glasses Collections and Eye Care Products,
please visit the following pages:
About Us – Our Team – Our Services
We invite you to come see us soon!
InSightful Visions (604) 885-3371
Toll Free: 1 (877) 885-3371
107 – 5530 Wharf Avenue
Sechelt, Sunshine Coast BC