Our Team
Meet the people at InSightful Visions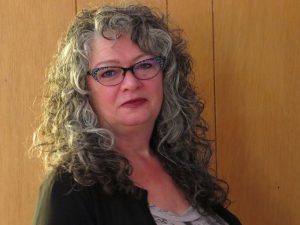 Susan Ferron
Susan began her career in the eye care industry in 1983. She settled on the Sunshine Coast in 2002, and as a Licensed Optician and Contact Lens fitter she opened InSightful Visions in 2007 in Sechelt. Her knowledge and love of eye wear is evident with each fit and personal consultation.
Susan assesses each individual for their wants and needs, then offers the perfect fit from her exclusive handpicked collections and unique product offerings.
Each pair of personalized glasses are handcrafted in our on-site lab.
Susan's commitment to her clientele's investment and their trust in her is unsurpassed. She stands behind what she provides 100% with continuous support and servicing throughout the years of wear.
Susan has also influenced the clinical aspect of the business by providing state of the art technology that includes the most in-depth screening and diagnostic capabilities. This contributes now to a Global data-base dedicated to research and study. Her passion for the protection of eye health in lenses has led her to lecturing to the Canadian Opticians Association. She was recently recognized with the distinction as an industry leader and innovator in the eye care industry at the Transitions Academy Innovations Awards.
Susan's holistic approach to overall health has grown exponentially, which started with her own quest for health improvement over 21 years ago. Seeing the personal impact and results has naturally broadened the information offered at InSightful Visions. This has resulted in a much wider spectrum than regular eye-care; by sourcing natural products and providing the information and knowledge to those seeking alternative options. She is currently completing her certification in Therapeutic Essential Oils to offer yet another modality to naturally support a healthy immune system and address disease at a cellular level. Her ultimate goal is aimed at improving eye and overall health.
Dr. Drexler – Officially Retired December 2017
Dr. Hank Drexler earned his Bachelor of Science degree in chemistry from the University of Rhode Island and studied for an additional year in a PhD program in biochemistry. He went on to earn his Doctor of Optometry degree from Pacific University in Forest Grove, Oregon, a pre-eminent training facility for children's vision care, including those with perceptual and learning difficulties. He has spent the past 38 years practicing in Canada including 24 years as owner/operator of a very successful downtown practice in Saskatoon.
In 1986 Dr. Drexler was one of two Canadian optometrists selected to travel to Houston, Texas to test US Olympic athletes visual processing skills.
Dr. Drexler focuses on providing exceptional family eye care using contrast sensitivity testing to relate the standard eye chart to "real world conditions" significant in the evaluation of cataract surgery, with a special interest in children's learning, perceptual difficulties and dyslexia. He is also experienced in pre and post-Lasik and PRK refractive surgery vision management; he has co-managed refractive surgery patients since 1996 with the Horizon Laser centers of Saskatoon and Regina.
An experienced canoeist, canoe builder and canoeing instructor, Dr. Drexler also earned his license as a pilot in 1995, adding ultralight and glider pilot's qualifications in the following years. He has worked as a white water rafting guide and has been on numerous expeditions in BC, Alberta, Montana, the Northwest Territories, Yukon and Alaska, including two first-time Canadian expeditions. His Wife, Dr. Audrey Ivanauskas, a retired podiatrist and former ski patroller, shares his enthusiasm for the outdoors and has often accompanied Hank on his canoeing and rafting adventures.
Hank and Audrey permanently arrived on the Sunshine Coast in early 2015 and are happy to settle here to explore the hiking trails with their two faithful Shiba Inu dogs, Suki and Sammy, who are renown for their hunting and tracking prowess.
Michele Davies
Michele joined our team in 2015 after moving to Sechelt with her husband, Martin. After a successful career in both sales and administration at a busy newspaper, Michele went back to school for the second time to develop her knowledge of her first love, sorry Martin, animals. Once qualified as a veterinary assistant, Michele joined a busy West Vancouver Animal Hospital where she soon became a leader as practice manager.
Michele is delighted to be a part of the new expanding InSightful Visions where she runs the Pre-Test room and thrives on learning with the most progressive technology available. She plans to combine her experience with animals, with her love of natural holistic remedies in the InSightful Visions new Essential Oils room.
Michele is mother to three young adults and a step-mom to a fourth. She owns the best dog in the world and the worst dog in the world and loves them both equally.
Mya
A Lacquer Black Alsatian (German Shepherd), Mya began her training as official greeter at eight weeks of age with an enthusiastic and eager to please attitude. Her self assigned duties includes greeting everyone at the door, doing due diligence with routine check in's with patients or customers during their time with us, and assisting with the recycling from the front office to the back through out the day.
She especially adores children and will happily join them in the Sand Castle to hang out, and with adults she will sit and listen to anyone who speaks to her. In her sixth year, she achieved her service dog designation and was exemplary on our trip to Florida for the Transitions Academy. She was an excellent flyer, the airlines staff adored her; and she mastered every escalator to be found, and was fascinated by them. Mya is much loved by all and is an integral part and dedicated member of our team.
Transitions Innovation Award

We were honored to be nominated as one of two Canadian practices for this award by Essilor/KW Lab, they track all materials and types of lenses used by practices. Our commitment to using only clear UV filtering materials, transitions and polarized for maximum protection and offering the Perfect Pair promotion resulted in our outstanding percentage for UV protection.
Susan and Mya were flown to Orlando Florida in February 2016 to attend the Transitions Academy to be enlightened, and cited as an industry leader and innovator.
Thank you to our dedicated patients and customers, for your trust in our recommendations and services; your support got us there.
Vision Expo East
Michele and Stacey took the opportunity to attend Vision Expo East this spring to see our industry as a whole.
They learned so much and returned to the Coast proud of where we stand as a company and knowing where we stand in our industry.
For more information on our Eye Care Products
please visit any of the following pages:
About Us – Our Products – Our Services
We look forward to seeing you soon!
InSightful Visions (604) 885-3371
Toll Free: 1 (877) 885-3371
107 – 5530 Wharf Avenue
Sechelt, Sunshine Coast BC